Katie is a seedrian spirit.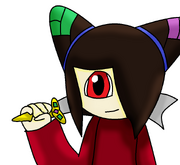 Age:15
Gender:female
Powers: ablity to use the seven orbs from her universe
Personality
Edit
Katie seems cold, arrogant and hot headed but when you get to know her she's quite nice. she is also a tomboy and she almost never shows emotion but when you get hurt she is very sympathitic and loyal. she is very calm and collected but when you get her mad run..  just run. She loves animals with her favorite being huskies and foxes.