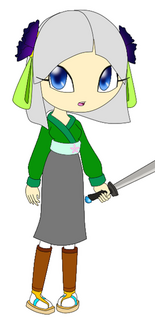 One's trust is not given so easily, you mortals have to prove yourself worthy if you wish to see the Mistress. -Kenshi the Ghost seedrian; Sonic Trilogies 2
Kenshi is the guardian of Both Tokyo, and The Sakurasaku, keeping all spirits safe from the deadly demons who wish to do harm to this balance. She wasn't always alone with this job though, what happened to them was that they died again in duty, when trying to defeat a deadly soul eater. Kenshi however was different, she was strong yes but she had More experience with a sword than the others, making her the strongest.
Her past before her Death
Edit
Kenshi was the first female samurai in Japan, and watched over Tokyo from intruders who want to do harm to any of the Hana Family, And since Tokyo was put to death, Kenshi was thought responsible for Tokyo's crimes, and was put to death with her.
Other info
Edit
Age: Unknown, Likes: a job well done, Dislikes: Making the mistress mad, Personality: Serious, Headstrong, etc, Power: She feels her sword is her power, Species: Seedrian, Flower type: Black poppies